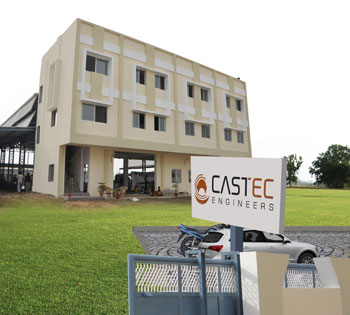 CASTEC ENGINEERS is a new venture launched by the promoters of SUNANDA ENGINEERING WORKS, manufacturers of a wide range of C.I. Casting.
The Ultra modern factory of CASTEC ENGINEERS, based at Khatraj, in Gandhinagar District of Gujarat, has an Induction Melting Furnace with a capacity of 400 Kgs per hour, and Cupola furnace with capacity of 2000 Kg per hour, for a production capacity which is three times that of its parent company. The plant uses Machine Moulding Process and No Bake process for Motor bodies and is equipped with Hi-Tech Machine Shops with CNC Lathes. No matter how large the order size, no matter how complicated the design, CASTEC has the capacity to meet with the demands of its valued Customers.
.
Infrastructure :
Year of Establishment : 2011
Our Premises : 5000 Sq. Yard ( Also Invested in Foundry Park, Ahmedabad )
Manpower : More Than 175
Products : Electrical Motor Bodies, End Shields, Flanges, Terminal Boxes, Gear Cases, Bearing Cover, Terminal Cover, Iron Clad Switch Products, Loom Switch and also as per requirements.
Machining Facilities : CNCs, Heavy Duty Lathes, VTLs, Milling Machines, Radial Drill Machine, Pillar Drill Machine etc.